A place for people. A place of beauty. A safe place.
A place to do business, to learn, to play, to have fun. A place to call home.
A place we are all proud of.

Let's build a better city for all Hamiltonians.
Better City for all - Putting people first, and at the heart of Council's decisions is important to me. This means not just talking with you, but listening to you, AND working alongside you. Last term I promised to engage more, to partner more, and I have. Our best success comes from working with others and I will keep improving how we work together to deliver a great future.
Safer City for all -
We all want, and deserve, to feel safe at work, at play and at home. I, like you, have been very concerned about crime in our city and focused on making a difference. I want to to strengthen, our partnerships with Police, key agencies, community organisations, and YOU to create a safer city. We have a lot of work to do - it won't be easy but I do believe that by working together we can become the safest city in New Zealand.
Better homes for all - Every person deserves a place to call home. To me this is NOT a motel operating as emergency housing, nor overcrowded or damp, cold homes. NOR is it tiny boxes crammed into small spaces all across our city with no thought of transport, green space or access to shops and services. Our housing market should provide a place for everyone and well- designed and affordable homes. While progress has been made there is much more to do. I want to ensure Hamilton City Council plays it's part in dealing with these challenges.
Better transport and transport choice - Hamiltonians want their roads and footpaths to be maintained and to be safe. They want roads that flow and access to reasonable parking. They also aspire to safer cycleways so that children and commuters can choose cycling. We must create transport choice for everyone, including those who use cars. We must however transition away from over reliance on private vehicle use ( especially for short trips) to provide opportunities for more walking, cycling, scooting, car sharing and passenger transport.
Better, greener environment - Hamiltonians love our parks, riverside walks and green spaces. No one wants to live in a concrete jungle. BUT We do want clean air, good water quality and green spaces to enjoy for play and for relaxation. You have clearly told us you want a Council that has an active plan to tackle climate change. This work has begun but much more must be done to deliver a better future for our children and grandchildren. I will work hard to build on the great work of the Environment Committee, to make sure we create a better, healthier city for us to enjoy now and in the future.
Better city finances and a strong economy - Costs have gone up for us all. It is a tough time. So this is not the time to heap extra burden on you the ratepayer. This is the time to take a sensible and balanced approach to running our city. Ratepayers deserve sound financial management and no nasty surprises. We must balances rates affordability with looking after city assets and managing our fast growing city. No one wants shabby, run down or closed facilities. But I do I know you want business to thrive, great events, and tourism to attract visitors plus strong education opportunities. I do too. By working with with others I know we can build a thriving city, AND I will keep lobbying central Government for the funding support we need.
Better team work makes for better outcomes for us all. We must put personal politics aside and put people first to create a city where we all can thrive, and can feel proud of.

November 30, 2021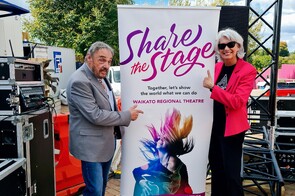 In October 2019, just after I was inaugurated as Mayor, I had the pleasure of standing alongside the why I wanted our city to be bold.This week, I recalled that conversation when I attended the sod-turning for the Waikato Regional Theatre.When it was first mooted, the Waikato Regional Theatre was ...
read more
Being Mayor of Hamilton, a city that is truly on its way to being a great city, is a privilege and an honour.
Your Opinion Matters to Me
Please don't hesitate to reach out to talk about what you want for our city.