A strong, resilient and vibrant city. A city where our people, our economy, and our environment thrive. A city that Hamiltonians are proud to call their home.
I stand for strong, sound finances - We must control rates and work smartly to find cost effective solutions to our biggest financial challenges.
I stand for getting growth right - We need affordable, quality housing, strong economic development and innovation, and we must have effective transport networks for people and business.
I stand for creating opportunities for everyone to thrive - Growing tourism, supporting small business, our excellent education sector and continuing our positive relationships with central government.
I stand for quality lifestyles - Looking after our fantastic community assets like parks, pools, libraries - the places and spaces we all love – is common sense.
Most of all I stand for you - Putting people first, and at the heart of Councils decisions is important to me. This means not just talking with you, but listening to you, AND working alongside you. Together we are strong.
November 30, 2021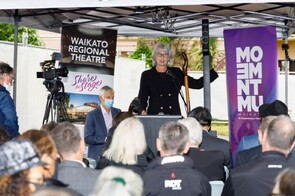 In October 2019, just after I was inaugurated as Mayor, I had the pleasure of standing alongside the Prime Minister and talking about why I wanted our city to be bold.This week, I recalled that conversation when I attended the sod-turning for the Waikato Regional Theatre.When it was first mooted,...
read more
Being Mayor of Hamilton, a city that is truly on its way to being a great city, is a privilege and an honour.
Your Opinion Matters to Me
Please don't hesitate to reach out to talk about what you want for our city.